AnyLexic Server: General Features
AnyLexic Server is used for sharing a common database of dictionaries within a group on AnyLexic users. Database on AnyLexic Server can be accessed through local area network or through the Internet using or standalone AnyLexic. AnyLexic Server Administrator is used for basic database management of Server Database, as well as for assigning different access rights to different users.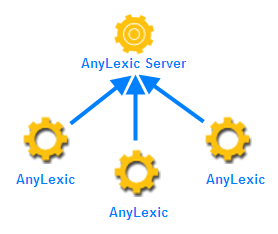 Each remote AnyLexic user can access terminology database, provided he or she enters valid login name and password. As translators work on their project, they consult and update their terminology database, ensuring terminology consistency and coordinating with other translator team members in the same network or even around the world.
The following general features become available with AnyLexic Server:
Simultaneous work of different users with one database via LAN or Internet
AnyLexic server provides all users of standalone AnyLexic with the ability to simultaneously access and work with one database through Local Area Network or Internet.

Customizable user accounts with varying access rights for each of the users
User account system allows assigning different access rights to each of the user, giving or denying them rights to create, edit, delete, import or export dictionaries, as well as access to certain dictionaries in AnyLexic Server database.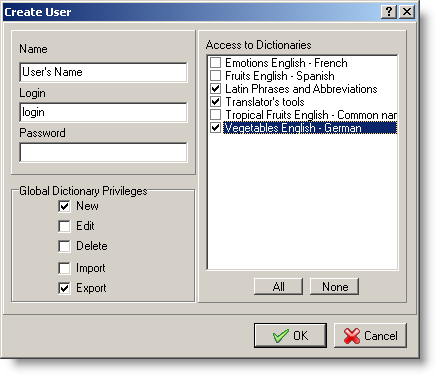 Three AnyLexic Server operation modes: Demo, Public and Private
AnyLexic Server can work in one of three different operation modes with various security and accessibility settings:
Demo – lowest security and highest accessibility mode, is the default mode during evaluation period. It can also be used if you wish to share your terminology database with everyone.
Public – secure operation mode, in which all AnyLexic users connected to the same server can see each other in the list of online users.
Private – Highest security and privacy mode, in which no list of online users can be viewed by those logged in.
User-friendly database management and server administration options
With the help of AnyLexic Server Administrator all common database operations can easily be performed. Backup, database structure optimization, integrity check, and repair can be performed with a few clicks. Database management options can also be used for quick check of online and offline users, and database update.

Reliable database platform
Powered by Firebird ®, AnyLexic Server can set up a database server on any computer in the network or with Internet access. More information on Firebird database server please see at http://www.firebirdsql.org.

.